Happy Birthday to Jon Bon Jovi – Born on March 2, 1962
On August 18, 1986 BON JOVI released their third album would be the album that made them a household name selling over 28 million records worldwide.  That January, Bon Jovi went to Little Mountain Studios in Vancouver to start work on their third record. Photographer Mark "WEISSGUY" Weiss was asked to brainstorm ideas for the album cover. The name they gave me to work with was Wanted Dead or Alive. Weiss eplains "I loved Westerns. I came up with what I thought was a no brainer: I'd have the guys grow beards, put on some cowboy garb and make a WANTED poster. The idea was to show the five of them as the Bon Jovi "gang," and have the WANTED poster brazenly tacked to the wall where they were 'hiding out'. Over a three-week period, Richie, David, Alec, Tico and Jon came to my studio in New York City, one at a time. I would have a good laugh as these formerly clean-shaven guys swaggered in with Billy the Kid looks and attitude"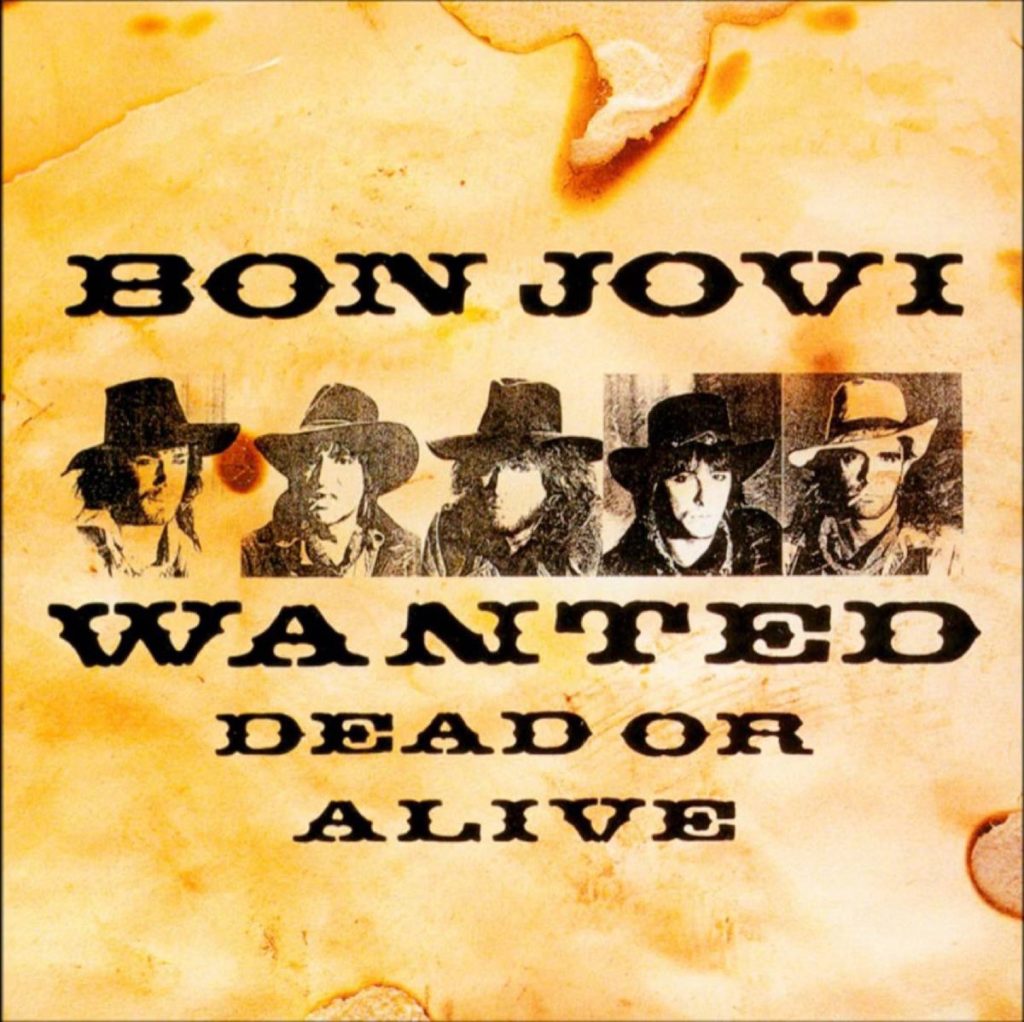 The guys came home after finishing the album, and now we needed to do band photos without their cowboy look. Jon lived right across the street from the beach in Bradley Beach, New Jersey, and that seemed like as perfect a spot as any. All the guys came with their cars, motorcycles and girls. Even then, we needed a few more girls, so I walked across the street and pulled a few. We were still in need of a large pair of breasts. My assistant Danny took a walk with Tico across the street and came back with just what the doctor ordered – a hot Italian woman named Angela. Immediately, we knew this was going to be the girl for our cover. I put her front and center in the band car wash photo that was used on the inner sleeve of the final album package.
Jon dumps a bucket of water on Mark Weiss after he calls it a wrap.      Angela and Mark Weiss, Slippery When Wet album cover shoot, 1986
A couple weeks after that, I did another shoot with Angela at my studio in New York. A blue background, a piece of glass, soap suds and some ice to perk things up a bit was all that was needed to do the trick. Angela put on the now dyed yellow strategically-cut t-shirt. Bon Jovi's label loved it, and the new album campaign was set to begin. I had some signs made, and the band and I went around Rumson and took some shots. We ended up on a dead-end street next to the Rumson post office. This was to be the back cover of the album. We also did promo photos at a studio in Red Bank.
Bon Jovi's Slippery When Wet album, 1986 (first cover)
Buy a Piece of Rock & Roll History! Get 50% off all Mark Weiss BUY NOW photographs. Use coupon code: RSMFLASHBACK50 at checkout
The album was done. Three-hundred-thousand copies, with Angela in her provocatively cut wet t-shirt clinging to her 34DD breasts, had already been released in Japan. Everything was ready to go in the US. But this was 1986, and the PMRC was in full swing. Record stores were telling the labels to ease up on the explicit content and imagery or they wouldn't sell the products. Polygram knew they had a smash album on their hands, and they didn't want to jeopardize that success. They also knew the music stood on its own, so we went back to the drawing board to come up with another cover. Mercury destroyed nearly 500,000 copies before they ever left the warehouse to be distributed in the U.S. Jon had issues with the Angela cover as well. Only in his mind, it was more about the color of the border around the photo than the actual photo itself. Recently he told Howard Stern that his thinking was, "My career is over if we put out a hot pink album cover." But if the pink border was the problem, why not just take it out?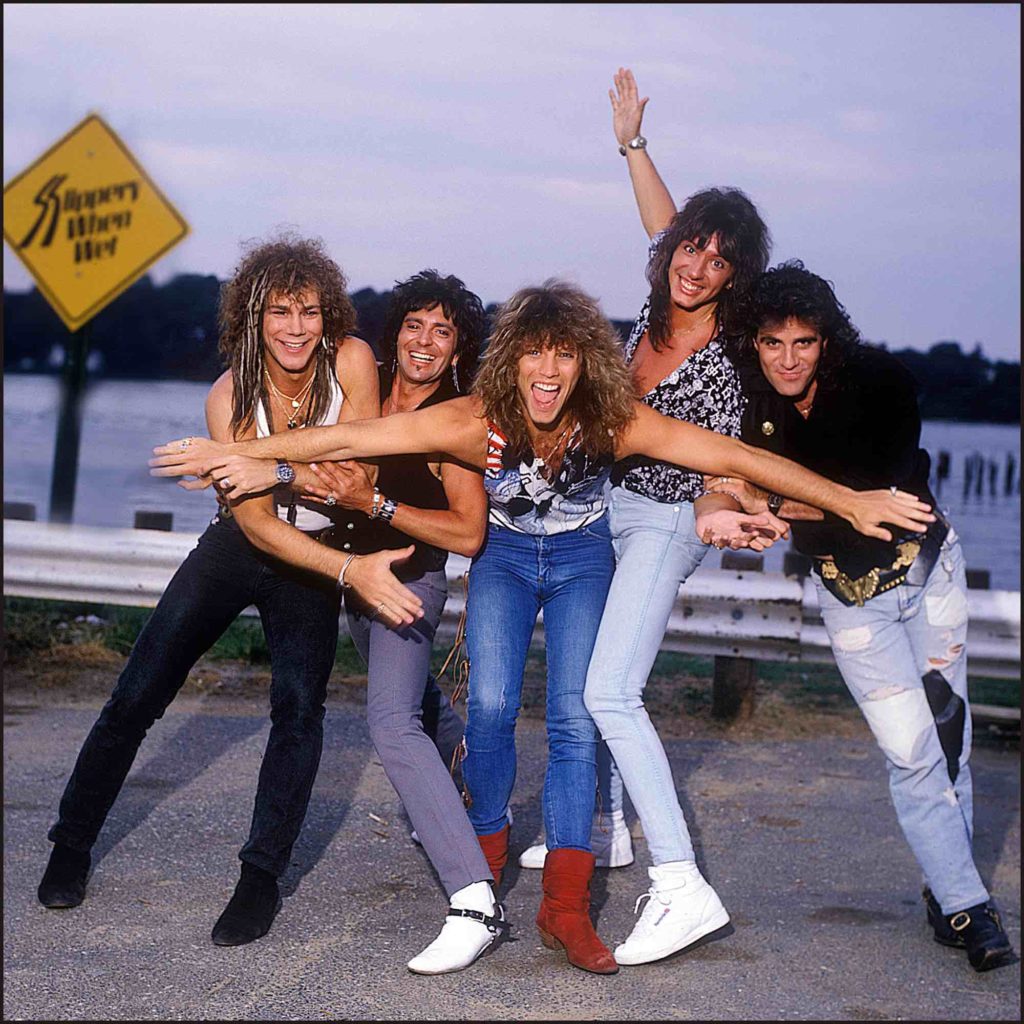 Bon Jovi in Rumson, NJ
I asked him what we were going to do and he replied: "I don't know, but this is our last chance or the album gets held up." Jon arrived at my studio, walked inside and didn't even say hello. "Garbage bag. Spray bottle," was all he said. I followed orders. I propped up the black bag and sprayed it with an oil and water mixture. Then Jon wrote the words SLIPPERY WHEN WET. As he was leaving he said, "That's it. That's their cover." He didn't even wait to see the Polaroid. The next day I delivered the photo, and the rest is history.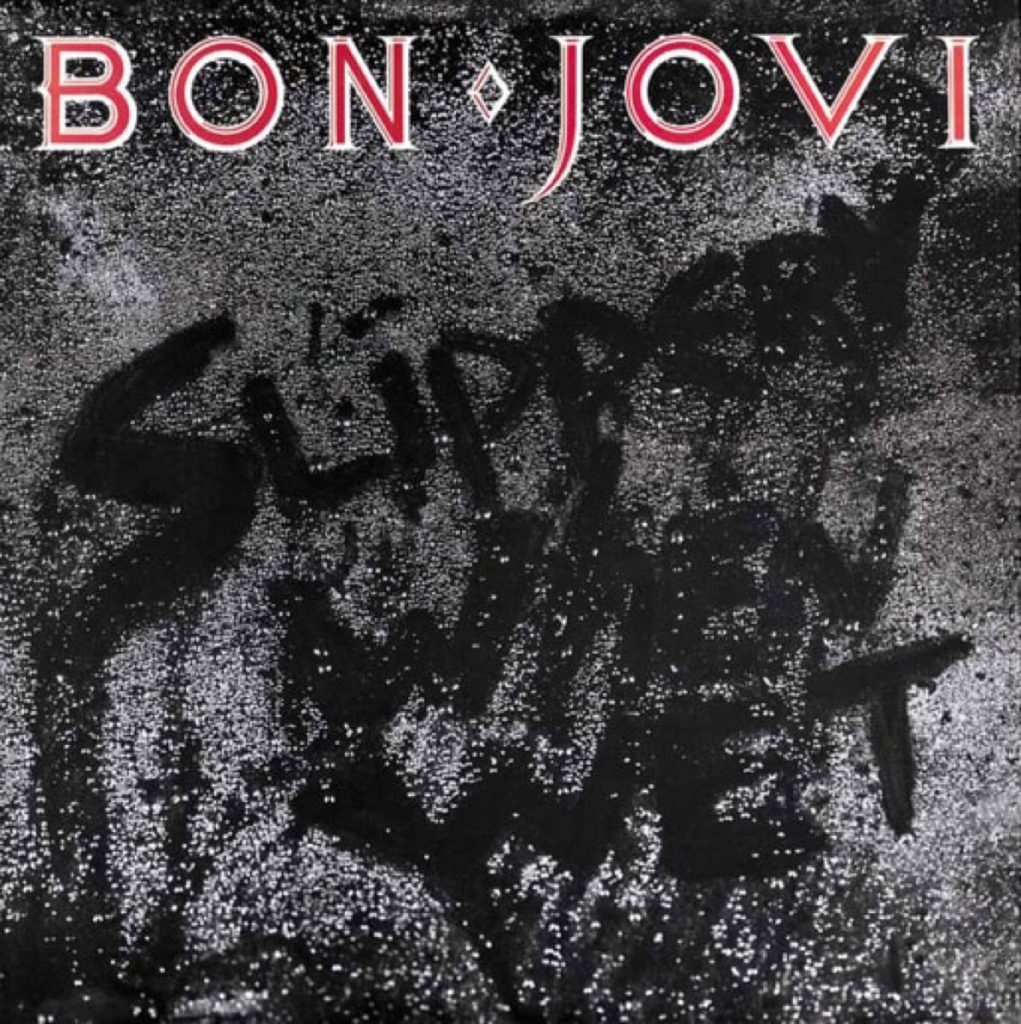 Bon Jovi Slippery When Wet album cover, 1986
Jon Bon Jovi: We turned in the new album cover. As Jon later explained on VH1 Ultimate Albums: "Don't tell me that red album covers sell and don't tell me that my picture on the cover sells. I don't want to hear it. Here's your album."
PRE -ORDER NOW ON AMAZON by MARK 'WEISSGUY' WEISS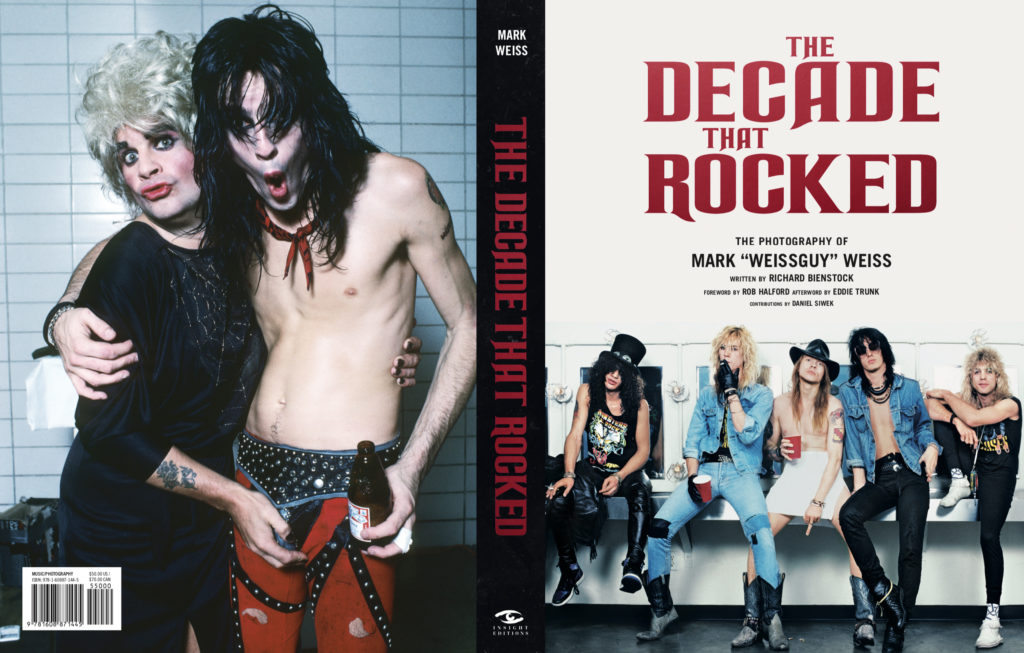 AT A BOOKSTORE NEAR YOU
JUNE 2020
Check out the full story at FLASHBAK