" STOP ME" by The Split Squad September 2, 2018
Little Steven's  Coolest Song in the World this week is "Stop Me (If You've Heard This One Before)" by The Split Squad.
Conceived over cocktails, wine, and beers in 2011, The Split Squad is one of those "perfect storm" rock and roll bands that comes from a bunch of musicians who have done it all and have nothing to prove. While that may sound a bit boastful, the pedigree here covers about 140 years of collective rock and roll experience, from the most rarified of concert halls, down to the seediest of underground shit holes. These guys have both reveled and wallowed in it.
Go to their website and check out more on The Split Squad.
Coolest Conversations with the Mighty Manfred:Michael Goblin  of Split Squad
Watch The Split Squad perform Little Steven's   Coolest Song in the World "Stop Me"in Paris June 2016
The drummer of The Split Squad and Blondie grew up influenced by bands like the Beatles, Rolling Stones, and other bands of the British Invasion. "From my early teens I was always in rock & roll bands. It was kind of like my social scene." He would play in the battle of the bands in high school and spend his weekends gigging. In addition to playing with Blondie, he has recorded with various artists including Pete Townshend and Bob Dylan.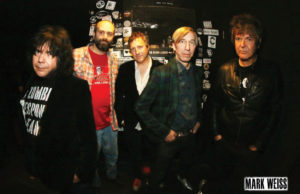 Eddie Munoz: Most famously known as the flash guitarist from LA's legendary Plimsouls, Eddie has more recently been spotted in Magic Christian (alongside Flamin' Groovies legend Cyril Jordan) and PA's power pop stalwarts Parallax Project. Eddie's "chaos theory" approach to rock and roll guitar is unique and immediately recognizable, yet squarely rooted in the timeless swagger of The Stones and The Yardbirds.
Clem Burke: Arguably one of the greatest living rock and roll drummers on the planet, Dr. Burke (Google that…it's cool) boasts a resume that starts at CBGB's in the 70's and ends at The Rock and Roll Hall of Fame. As a founding member of Blondie and a highly sought-after session musician, Clem has experienced nearly every aspect of the music business, but still has more passion to "climb in the van and take it to the fans" than most musicians half his age. To put it bluntly, there is no one on Earth like Clem…
Michael Giblin: Bassist/singer Giblin is the mad scientist behind The Split Squad, having assembled the project after his current band, Parallax Project, had crossed paths with all of the others on various tours and recording projects. Known in underground pop circles as a member of the much loved 90's power pop trio Cherry Twister, Giblin has spent many years toiling away in the bowels of the music biz as a session bassist, band leader, producer, and generally good guy.
Keith Streng: Known far and wide as a founding member of one of rock and roll's greatest (and longest running) institutions, The Fleshtones, guitarist Streng sets a standard for passion and dedication that few are able to follow. 30 years on (and counting), The Fleshtones remain one of rock's greatest "sure things": never a bad show; never an off night. They are as dependable as they are exciting. His rock-solid musicianship, combined with his high-wire stage antics, combine to anchor one of rock's most joyful live experiences. He's had books written about him, and documentaries shot on him. In a word…an institution.
Josh Kantor: Keyboardist Josh Kantor brings the wildest diversity to the mix. As a member of Boston's Jim's Big Ego, and the critically acclaimed supergroup The Baseball Project (featuring members of The Dream Syndicate and R.E.M.), Josh has rubbed elbows with a number of rock luminaries, but he still manages to find time to excel at his day job, which just happens to be as the organist for The Boston Red Sox. Yes, THOSE Boston Red Sox. As such, Josh possesses a skill level and musical vocabulary that few can match.