Billy Idol and Steve Stevens at the Count Bassie Theatre – April 4, 2019
Photography By "Mark"WEISSGUY" Weiss
Billy Idol and Steve Stevens strolled onto the stage with confidence at the Count Basie Theatre in Red Bank for their Turned On, Tuned In and Unplugged show. The legendary duo began the evening with Idol's classic "Dancing with Myself," before going right into the Rebel Yell hit, "Catch My Fall."
Despite the fact that both of these songs are more than 30 years old, Idol and Stevens' prolific musical collaboration continues to this day. At the Count Basie Theatre, Steve Stevens' love for music came through in his own words, as he stood beside Billy and spoke to the sold-out crowd, reminiscing about seeing Johnny Thunders and the Heartbreakers and then telling his mom the next day he was dropping out of school.
"I saw my education and he's got red hair and his name is Johnny Thunders," Stevens said. The guitarist also traced his rocky path to rock stardom through continuous trial and error with a slew of bands as a young musician. Finally, his fate as a musical icon was set in stone when he came in contact with Billy Idol's then-new manager, Bill Aucoin, who arranged for the two artists to meet. Thirty-seven years later, the journey continues. "It's still fuckin' fun and we never get tired of playing these songs," Stevens told the crowd.
Before returning for an encore of "White Wedding" and "Shakin' All Over," Idol and Stevens performed the iconic "Rebel Yell," with Billy recounting the making of the legendary song: "I was at this birthday party, and I can never remember which one, it wasn't Ronnie [Wood]'s birthday, I know that much," the singer began. "But, at this one point in the party in front of me was Ronnie Wood, Mick Jagger and Keith Richards, and they're all drinking this gigantic bottle of this stuff that, you know, I was just kind of, 'What the fuck are they drinking?' "
Billy continued: "As they were drinking I was following the label up to their mouths [and] I can see on this label it had, like, a Confederate cavalry officer, you know, charging on a horse and with a plumb in his hair like Jeb Stuart or something. And I can see this stuff is called Rebel Yell. We knew a little about the American Civil War. So I said to them, 'Rebel Yell—you're not thinking of using that for a song title, are you?' They kinda looked at each other and went, 'Ah, no I don't think we would use that.' I was like, 'Oh fuck, great!' "
With a combination of insightful stories and great songs, the dynamic duo of Billy Idol and Steve Stevens was in full effect at the Count Basie Theatre. And even after all these years and millions of albums sold, they show no signs of slowing down. Stevens demonstrated the same intense playing and stage presence as always, and Idol's voice is still passionate and in top-notch form. And while the Red Bank crowd may have exhibited some gray hair, it was apparent there was also a new generation discovering Billy Idol's music for the first time. the thunderous cheers from the crowd were undeniable throughout the night, from both old and young fans alike.
 Paul R. Fessock / World of Rock Music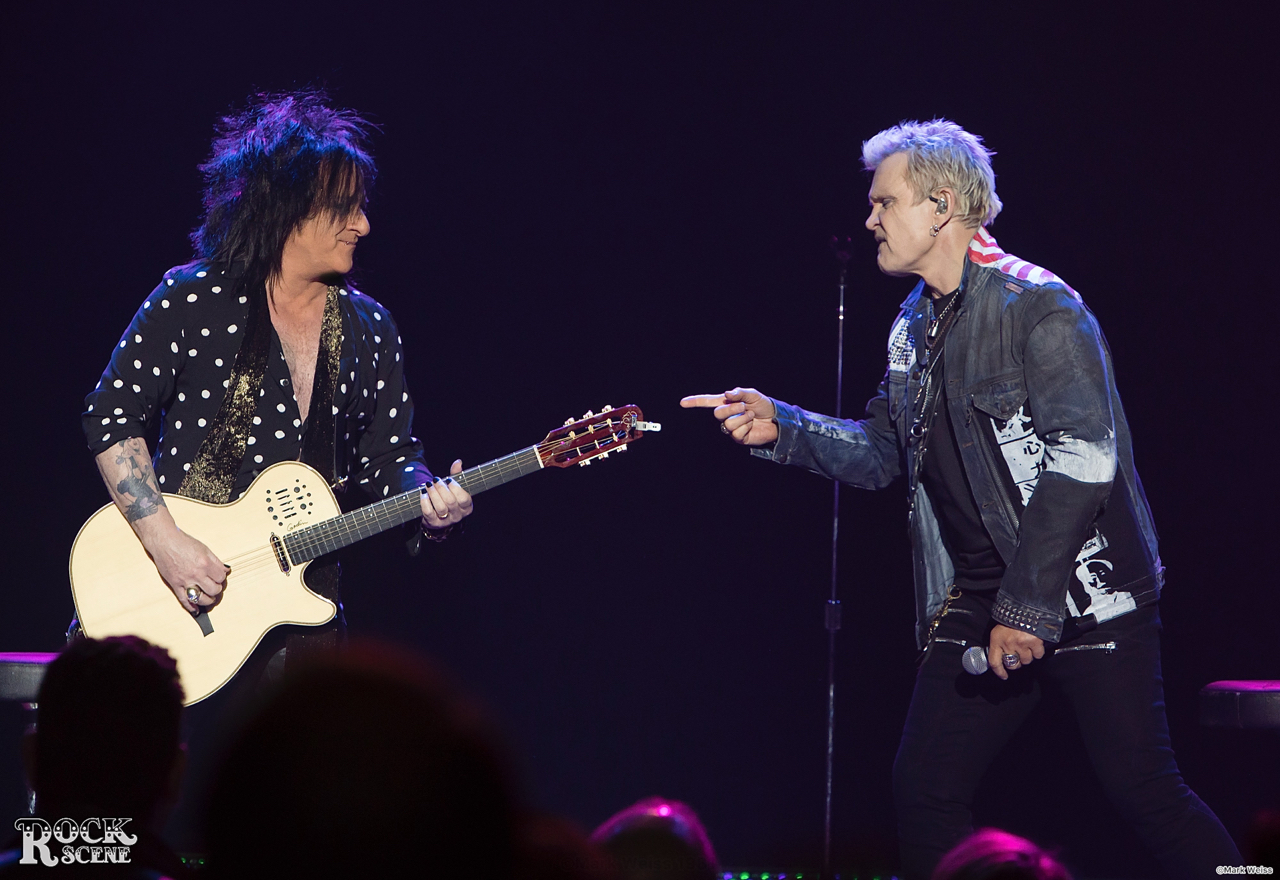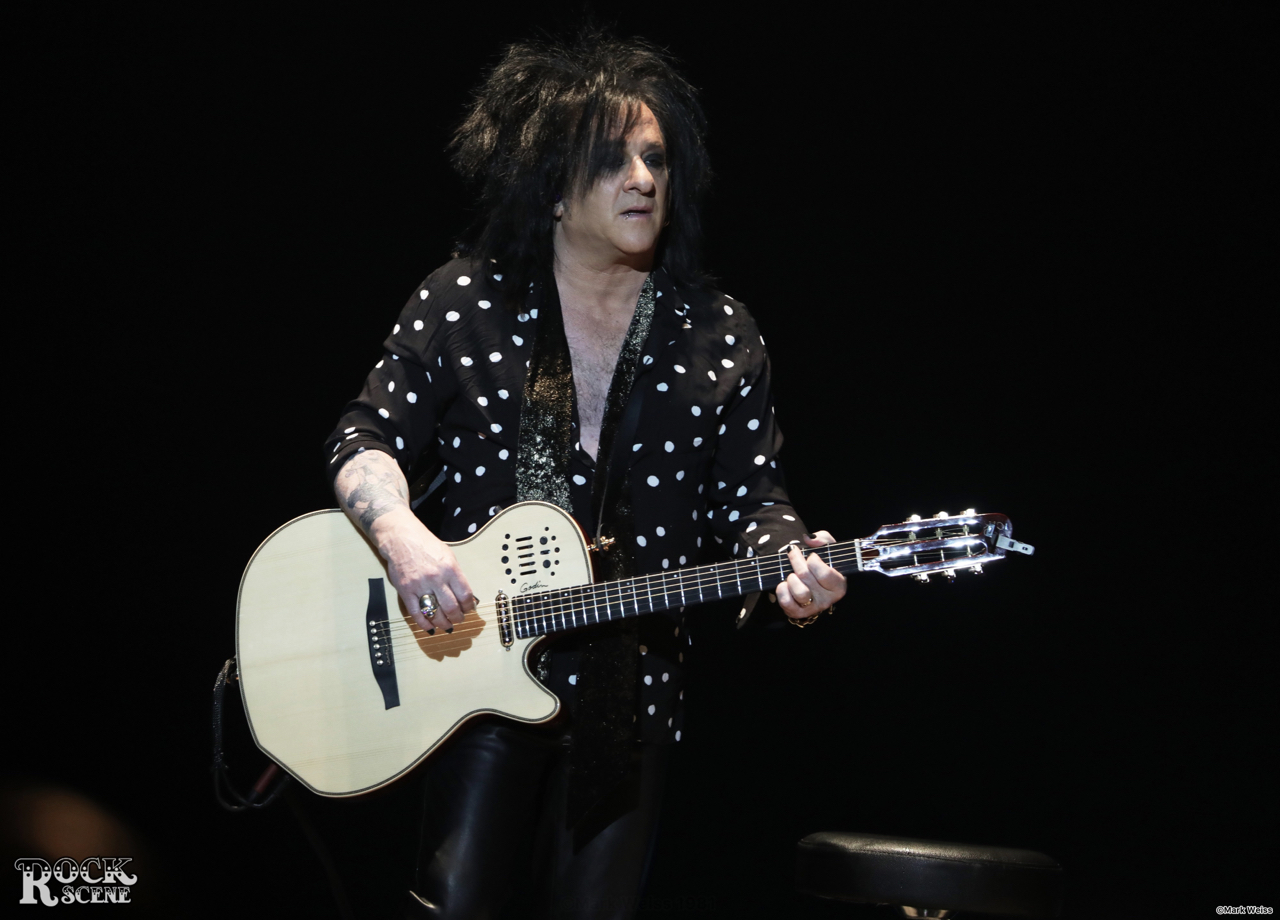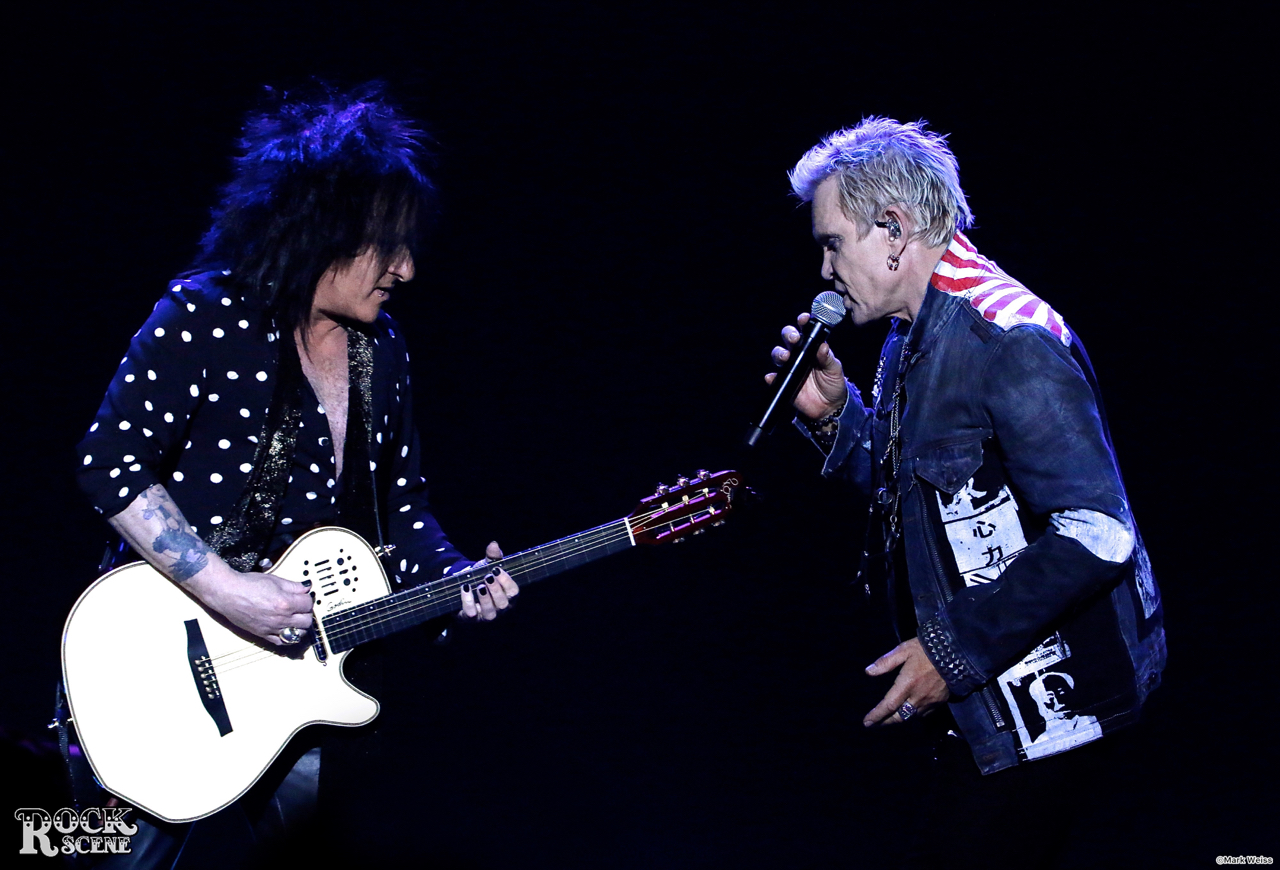 Billy Idol and Steve Stevens perform "Eyes Without a Face" at the Count Bassie Theatre on April 4, 2019
Billy Idol and Steve Stevens perform "Rebel Yell" at the Count Bassie Theatre on April 4, 2019
Billy Idol and Steve Stevens perform "White Wedding" at the Count Bassie Theatre on April 4, 2019
Steve Stevens talks about his Rock Scene at the Iridium – January 29, 2012
Buy a Piece of Rock & Roll History! Get 50% off all Mark Weiss BUY NOW photographs. Use coupon code: RSMFLASHBACK50 at checkout 
(Two per customer, excludes auction listings. )