Happy Birthday to Tracii Guns – Born January 20, 1966
In this exclusive interview with Rock Scene, Tracii Guns looks back on his early experiences with music. He remembers being a young boy and sitting in the back of his mother's boyfriend's car in 1971 and hearing Led Zeppelin's "Whole Lotta Love" for the first time. "It was overwhelming audio fear," he recalls. "I remember thinking, I have to recreate that noise right now!"
On the way to the airport, they stopped by a newsstand. Tracii saw Jimmy Page, decked out in his dragon suit, on the cover of CREEM magazine. His mom told him, "That's the guy making that noise on the record." I saw that picture, and I'd never seen anything like it in my life," Tracii says. "The imagery, the sound, it completely captivated me when I was five-and-a-half years old. From that point on it was all about, 'Mom, play me something like that!' Led Zeppelin II    was all I ever listened to until I was seven years old. The theremin coming in on the 'Whole Lotta Love' solo, that riff, the way Jimmy used reverb…everything had plate reverb on it. Everything sounded scary and dark and damp. I kinda pictured these dark figures in a really cloudy overcast environment being very moist and depressing. And I was so drawn to that." Shortly after, Tracii heard a Black Sabbath greatest hits album. "The imagery on the cover was just, like, all these skeletons in a community, and the first song was 'Iron Man.' I was like, 'Oh! There's more of this.' It was like a horror movie for your ears."
Tracii met Slash when he was 12 and the two started learning guitar together. "By the time we were 13 or 14 we could really play. It was pretty amazing," Tracii says. "The first Def Leppard and Iron Maiden records came out, and beyond Van Halen and Ozzy and Sabbath we were really into Aerosmith and Zeppelin and it was all about learning all those riffs. We had enough friends that played drums and bass and we had a little band."
Tracii talks about when he first saw Motley Crue's Mick Mars, who had such an impact on him. "At the time there was no one like him. He was fucking nasty. He was really tight, really nasty, a cool kinda distortion." He also talks about how he got his sound and his style by listening to Ted Nugent's "Stranglehold" at age 13, as well as the other tracks on the Double Live Gonzo! album, which was blues-oriented rock 'n' roll. "If I didn't get exposed to that I may have never gotten exposed to that as part of my style," Tracii says. "If I'm gonna learn 'Stranglehold' that means I've gotta learn the other three sides of that double album. That's where I started picking up on the basic rock 'n' roll blues sound. The blues is the discipline that goes into creating metal."
Tracii goes on to talk about the formation of L.A. Guns, which happened after going to see the band Shire, which featured Izzy Stradlin on bass, at the Roosevelt Hotel. After hanging out with Izzy, and band members coming and going, Tracii finally asked Axl, who had played with Izzy in Hollywood Rose, to sing in L.A. Guns—which he did, for a year. After living with Axl, Tracii fired him from the band but they remained friends. He then started talking about making a record label with Axl called Guns and Rose. They realized that should be the name of a band. Then Tracii called Izzy and he joined Guns N' Roses with Axl as the singer. After six months, Tracii left the band and went full force with L.A. Guns.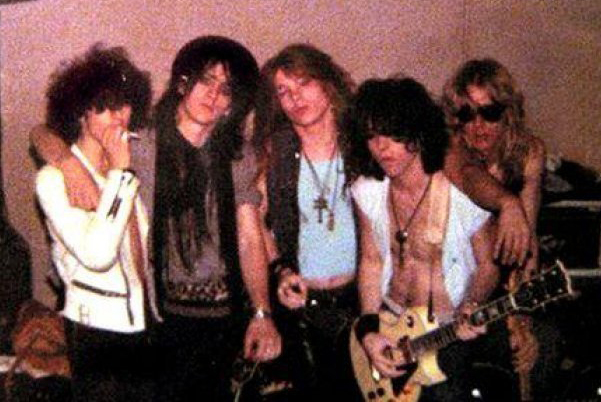 The L.A. Guns sound came about as a result of all the music Tracii learned and was exposed to growing up. Today, he approaches the music much in the same way as he did more than 30 years ago for the first L.A. Guns record. "This is what I love—it's my sound," he says. "Phil [Lewis] sings on it, and the chemistry is identifiable. When I write a piece of music with that really weird fucking guitar sound and Phil sings on it, that's L.A. Guns."
Tracii Guns before hitting the stage  with his Epiphone white guitar his newest addition to his guitar collection at The Debonair Music Hall in Teaneck, New Jersey on April 9, 2019.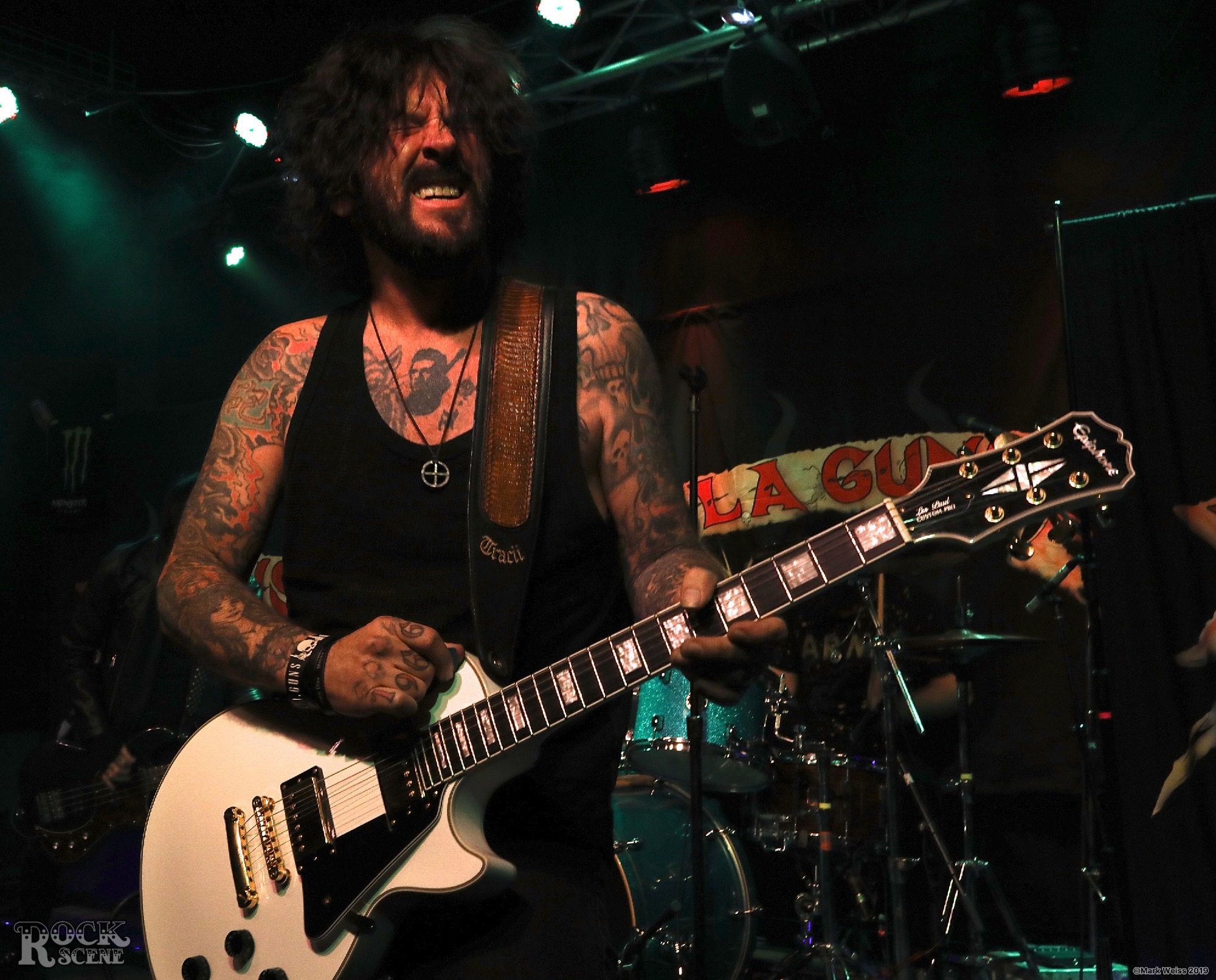 Check out L.A. Guns "Speed")official live video) from the 2017 "The Missing Piece" album with Phil Lewis filmed in Milan Italy.     
Editor in Chief Mark "WEISSGUY" Weiss checkin out some vintage ROCK SCENE magazines before performing at the Debonair Music Hall in Teaneck, New Jersey on April 9, 2019. 
ROCK SCENE FLASHBACK
Buy a Piece of Rock & Roll History! Get 50% off all Mark Weiss BUY NOW photographs. Use coupon code: RSMFLASHBACK50 at checkout 
(Two per customer, excludes auction listings. )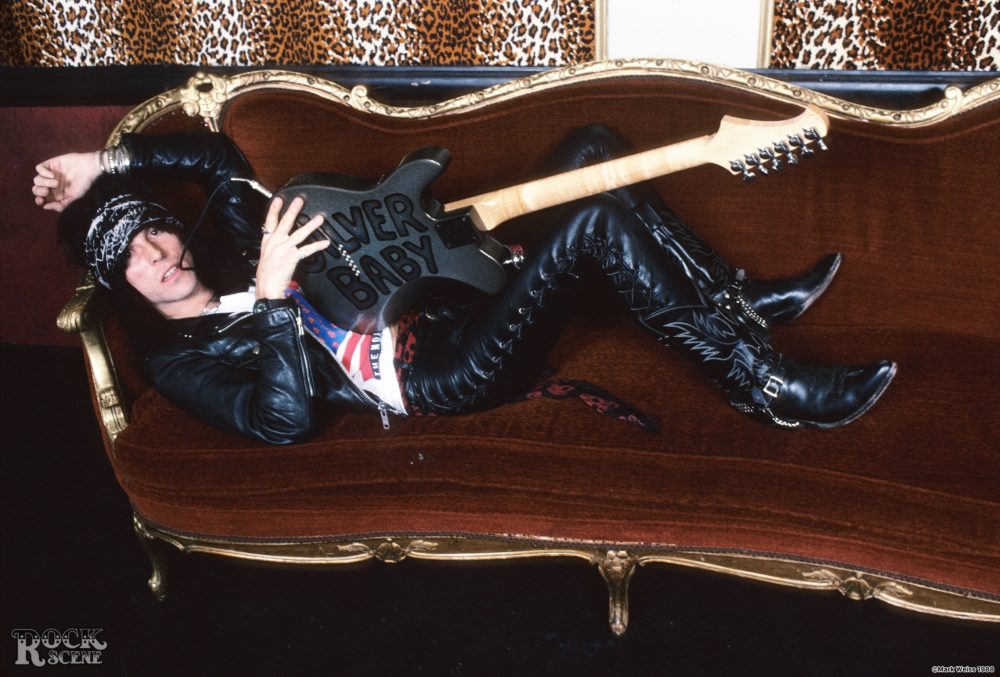 Tracii Guns photo by Mark "WEISSGUY" Weiss ©1989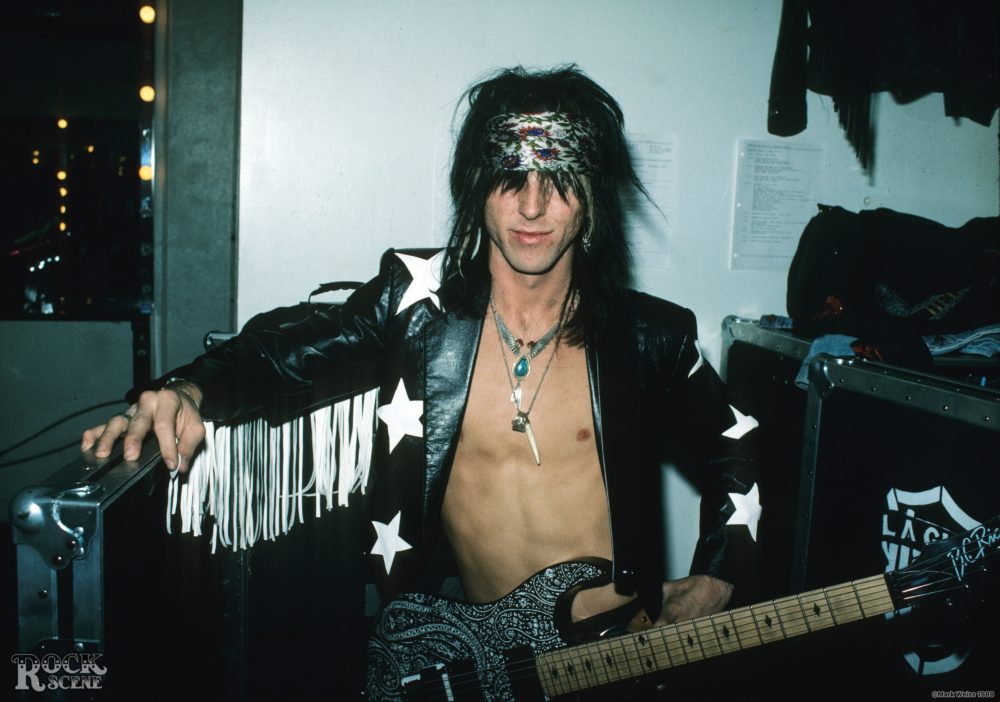 Tracii Guns photo by Mark "WEISSGUY" Weiss ©1989
L.A. GUNS' new album, "The Devil You Know", was released on March 29 on  Frontiers Music
L.A. Guns – The Ballad Of Jayne (official video)