Jimi Hendrix film "Rainbow Bridge"
SAY WHAT! (7 minutes in)  Another 13,000 feet we go higher and higher and Cleopatra has this beautiful raven hair and what are you supposed to do man except lay there and play the part.  And so I'm laying there playing the part and the grape chokes me almost, but I can't let the joke come out. Because you know I have to be together, right?  So, I say, "Oh, groovy great wine there Cleo.  Hell, I mean, let's get it on, forget about all that stuff back there and forget about you and your scene.  Let's just go out in the hills and relax and live."  – Jimi Hendrix  Go to (page 52) to see the story in ROCK SCENE Magazine.
Rainbow Bridge is a 1972 film directed by Chuck Wein that features footage from a Jimi Hendrix concert, and a short piece of conversation between Pat Hartley, Wein and Hendrix. It was mainly financed by Hendrix manager Mike Jeffery, hence his appearance. The film is about Pat Hartley's "spiritual awakening" via a visit to the 'Rainbow Bridge' planetary meditation cult on Maui, where, as part of the proceedings Jimi Hendrix visits to play a concert during a 'Rainbow Bridge' mass meditation/colour/sound "experiment". The "Rainbow Bridge" concert was a free concert by Jimi Hendrix that was held on July 30, 1970, in a horse pasture above Seabury Hall, on the "Upcountry" slopes of Haleakala, the volcano that makes up 75% of the island of Maui, Hawaii, although it probably last erupted in the 17th century, it is officially considered as being active.
A modest audience of a few hundred island hippies, surfers, and students turned up following announcements that Hendrix would play a free concert for a film. Hendrix was also in Hawaii to play the last concert on his 'Cry of Love' tour with his reformed 'Jimi Hendrix Experience' (with Billy Cox replacing Noel Redding on bass & backing vocals. Mitch Mitchell & Cox were also previously members of Gypsy Sun and Rainbows). The director Chuck Wein introduced Hendrix' performance (no mention of a group name) as the driving force of this 'Rainbow Bridge' "experiment", (this title is often mistaken as being the name of the site of this concert rather than the name of this "Planetary meditation" cult, an extension of the Gaia hypothesis into spiritual realms). The original cut, not surprisingly used very little of the concert footage, as this was not intended to be a concert film and no music from the performance was released on the official Reprise LP "Rainbow Bridge- Original Motion Picture Soundtrack" for contractual reasons and due to the original music soundtrack being unreleasable due to its very substandard sonic quality on account of strong winds that day. The album does include, however, the studio tracks featured in the film. However, the music from the concert was distributed as a bootleg recording for three decades, before Radioactive Records released this same bootleg recording on the 2003 album, The Rainbow Bridge Concert: The Early Show until it was withdrawn due to a court action by 'Experience Hendrix' which makes this officially a 'bootleg' CD release. The 'Rainbow Bridge' concert was the penultimate performance by Hendrix in the United States, his last was two days later on August 1, 1970, in Honolulu, Hawaii. Hendrix died less than two months later on September 18, 1970 in London, England.   (YouTube)
Jimi Hendrix "RAINBOW BRIDGE" original motion picture soundtrack artwork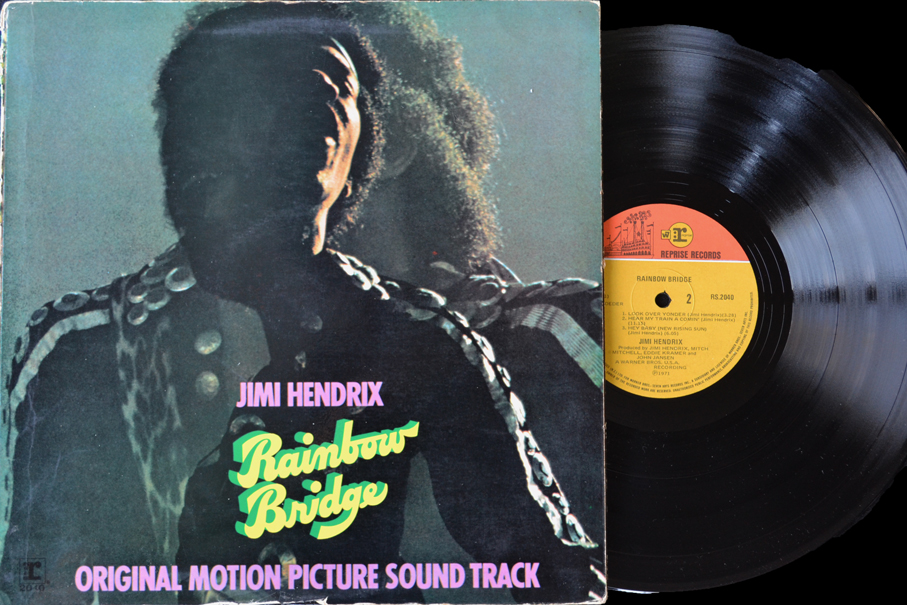 Jimi Hendrix - Vintage Radio Commercial - Rainbow Bridge