Deep Purple "The Long Goodbye" 2018 Tour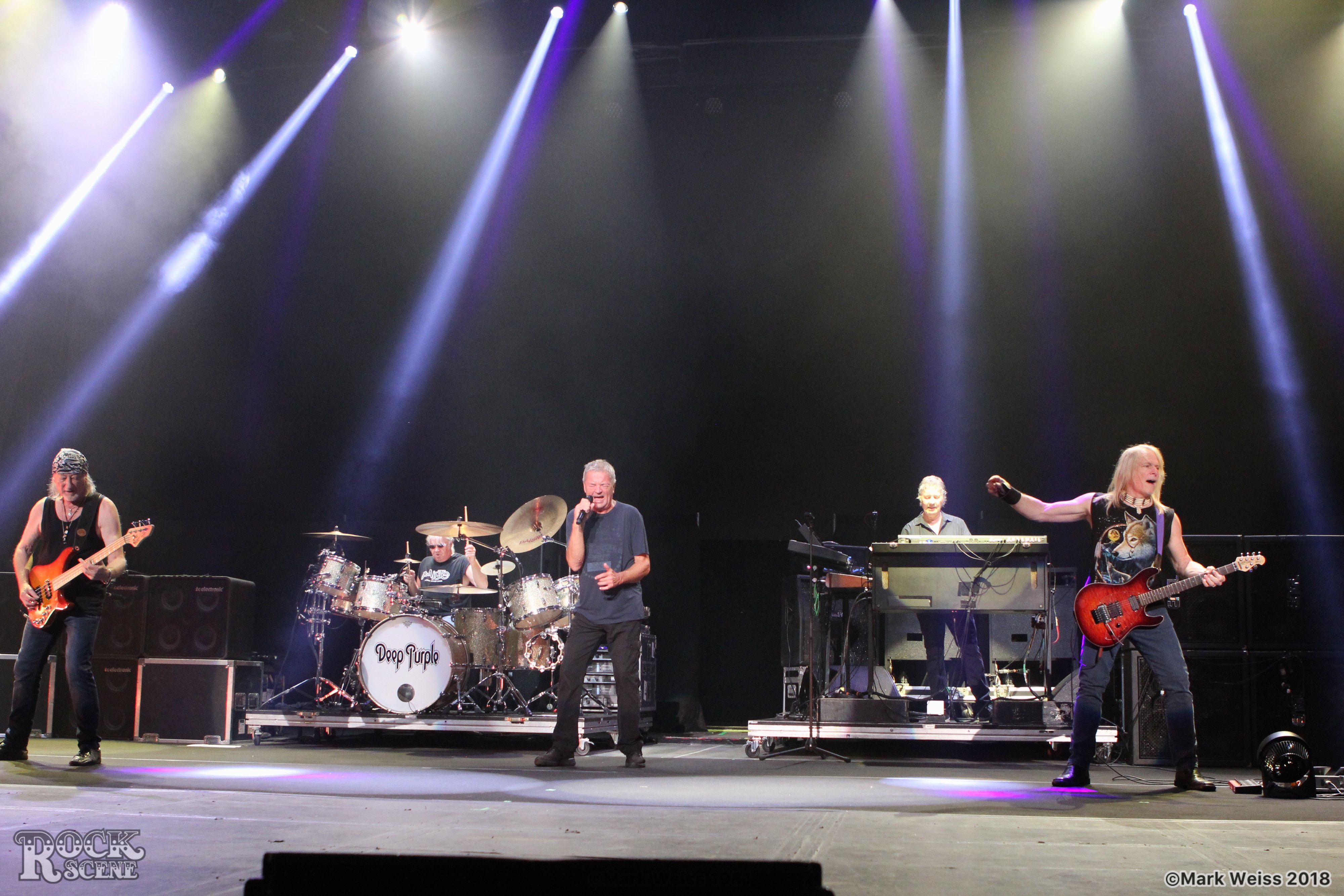 Deep Purple performs at the PNC Art Center on September 6, 2018 co headling with Judas Priest.
All hail to the mighty Deep Purple!      \m/     By Anthony Notte   \m/
On Thursday, September 6th 2018 English hard rock and heavy metal band Deep Purple rocked the roof off of PNC Bank Arts Center in Holmdel New Jersey. Deep Purple followed the stage after Judas Priest on this co headline tour.It came on and quickly set the pace with the high-speed low drag Machine Head opening classic "Highway Star".  Hearing and seeing the soaring guitar of Steve Morse and the growling roar of Don Airey's keyboards pumping the crowd up was a real treat for my eyes and ears. From then on it was no cruise down memory lane, it was a highway joyride to hell. Steve Morse killed  it on guitar for this gig.  Having joined the band in 1994 following  Joe Satriani after he himself followed original lead guitar player Ritchie Blackmore, Morse has  been the bands longest active serving guitar player and has since more then earned a rightful place in Purple's long and storied legacy.  More of the review at the bottom of the photos…..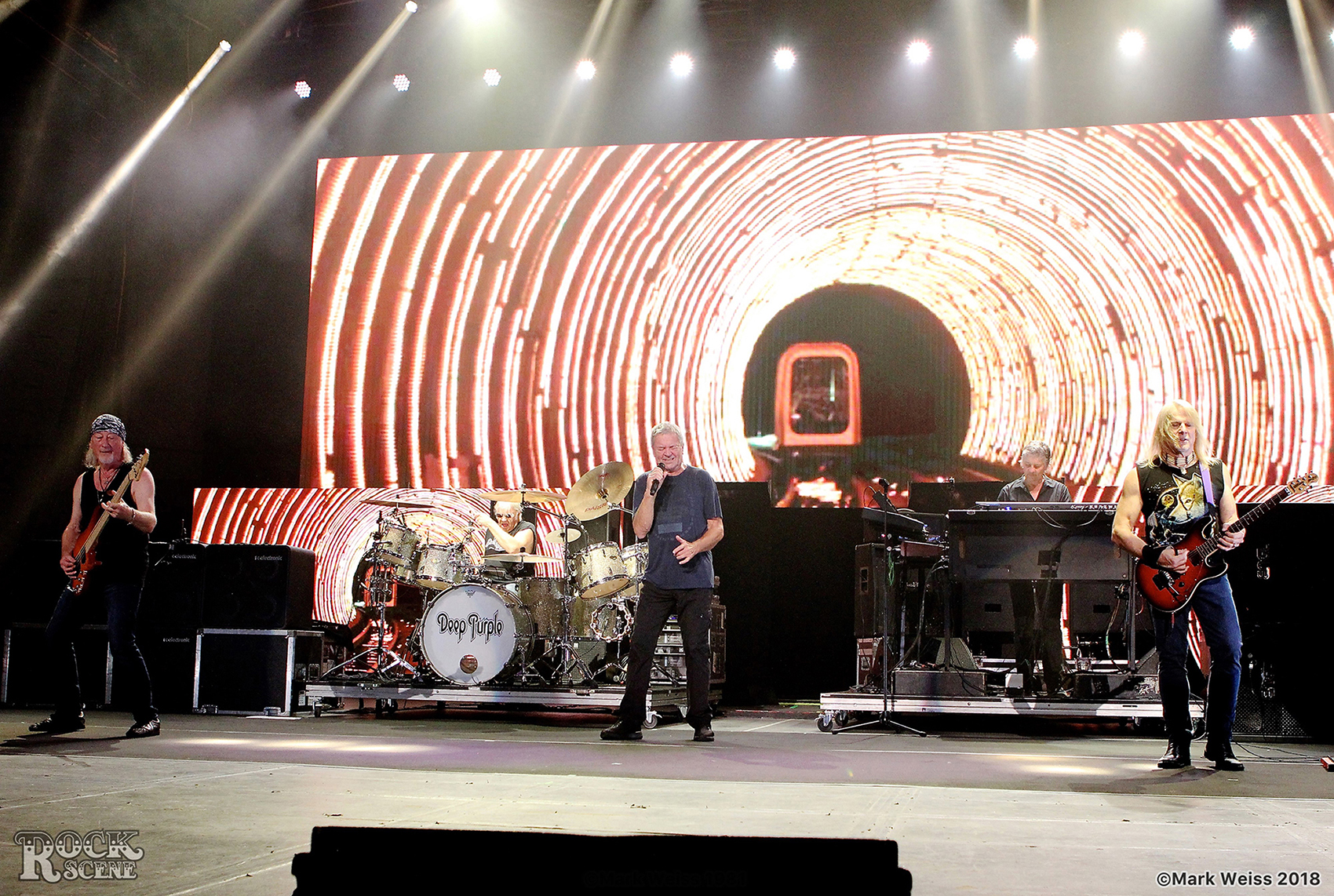 His playing that night was powerful, technically sound and soulful. I feel that Morse is a guitar player's guitar player who is known for a wide-ranging skill set. He can make his guitar roar like a lion and sing like a bird all within the span of a single song. His incredible ability to put emotion into songs like "Sometimes I Feel Like Screaming" "Uncommon Man" and "Smoke on the Water" is something that is really masterful and awe-inspiring. Roger Glover was awesome on bass for this show. He began playing with the Mark II line-up of the band starting with Purple's fourth studio album In Rock in 1970. I am happy to say that Glover still has that same look of excitement and happiness from back then when playing live on stage now which was very rewarding to see. His bass playing and tone was sharp powerful smooth and funky. I loved hearing him drive his bass through songs like "Highway Star "Lazy" and "Pictures of Home" with ease while adding a perfect low end counterpoint to Steve Morse's searing high end guitar parts. Ian Gillan sounded outstanding on vocals during this show. At 73 years old he has proven that their is still a lot of power left within his voice. Gillan's got great command of his vocal abilities which is how he can go from singing within the high middle or low ranges at the drop of a hat. Seeing and hearing him belt through many of my favorite songs like "Space Truckin'" "Bloodsucker" "Knocking at Your Back Door and "Lazy" with pure passion and excellence was quite gratifying.  Ian Paice was off the chart impressive for this gig. Paice who is now 70 years old holds the distinguished honor of being the band's only constant original member since its foundation back in 1968 which is a nice bit of time to give to any one band. Being the drummer of Purple he has got the most physically demanding job of all since he is the time keeper and must be the "heartbeat" of the band by providing a source of power speed and precision that makes every song work and sound perfect in a studio and live setting. Watching him pound away behind his drum kit through songs like "Space Truckin'" "Lazy" "Perfect Strangers" and "Smoke on the Water" with a huge smile on his face was a wonderful sight to see and hear. Don Airey is without a doubt a absolute keyboard playing wizard and his skills were on full display from the first note of the show. Having joined the band in 2001 as a touring member he was asked to join full time the next year following original keyboard player Jon Lord's  amicable retirement. In my opinion Airey is a very worthy successor to Lord and let us not forget that he is a rock keyboard veteran who has worked with all star bands and artists like Black Sabbath, Rainbow, Judas Priest,  Jethro Tull and Ozzy Osbourne to name a few so Airey was and still is more than able to rock it up with Purple for any given gig. Since Airey is one of my favorite keyboard players of all time along with Jon Lord it was a great honor for me to watch and hear him blaze through songs like "Highway Star "Lazy" "Space Truckin'" "Smoke on the Water" not to mention his excellent keyboard solo which was out of this world. As a whole Purple's setlist was a mix of fan favorites like "Strange Kind of Woman", "Space Truckin",  "Lazy", "Smoke on the Water" along with some rare gems like "Bloodsucker",  "Sometimes I Feel Like Screaming" and "Uncommon Man" which was played as a tribute to original keyboard player Jon Lord. Being a huge Purple fan I have great respect for the band as a whole ever since I first heard "Smoke on the Water" from Machine Head. They are on what's being billed as The Long Goodbye Tour and while no band in rock music can tour continuously, I have got to give the members of Deep Purple credit because they are still giving it 100% each night. If they do indeed retire from touring after this run of shows, then, in my opinion, they are making this tour a special one by going out on the highest note possible.    
Don Airey shares his "Rock Scene" – keyboardist currently in Deep Purple. He has had a long and productive career, playing with such acts as Gary Moore, Ozzy Osbourne, Judas Priest, Black Sabbath, Jethro Tull, Whitesnake, Saxon, Wishbone Ash, Steve Vai, Michael Schenker, Rainbow, Thin Lizzy and Brian May.