Judas Priest "Firepower" 2018 world tour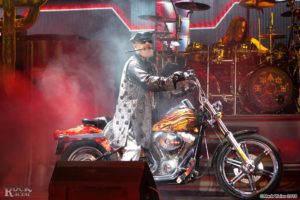 Rob Halford of Judas Priest performs at the PNC Art Center in Holmdel New Jersey on September 26.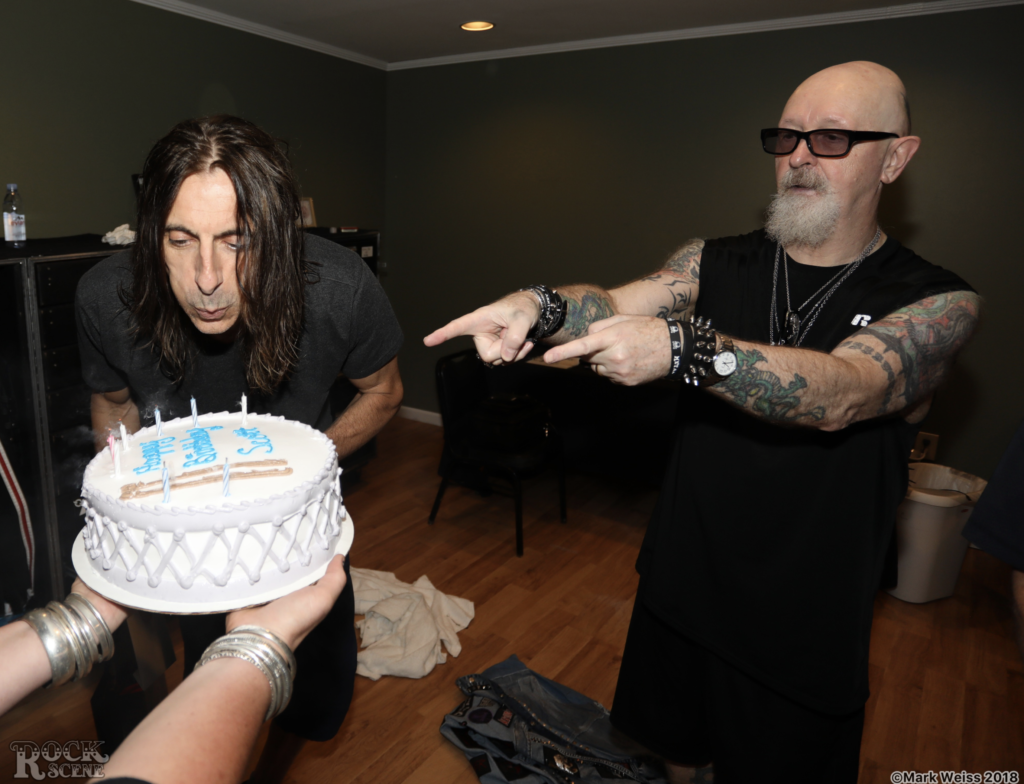 Scott Travis with Rob Halfod celebrating Scott's 57th birthday after performing at the PNC.
All hail to the mighty Judas Priest!   \M/   By Anthony Notte
Judas Priest kicked things off with the title track from their newest studio album Firepower and it was full throttle awesomeness from the first note. The twin guitars of Richie Faulkner and Andy Sneap roared loudly and got the crowd pumped and ready for a magnificent metal onslaught that would not relent until the end of the set. Firepower is Priest's newest studio album and the band was not shy in showing off some prime cuts from this record during their set. A few songs that stood out were the title track "Firepower", "Lightning Strike" and "Rising From Ruins."   …….More of the review at the bottom of the photos….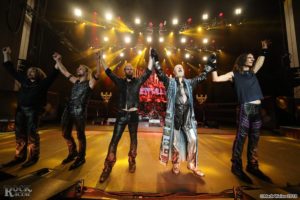 These songs sound killer on the record and sounded even better when played live. What I like best about Firepower as a studio album is that it has everything that fans want and expect from classic Priest offerings like British Steel, Screaming for Vengeance and Painkiller with a fresh and exhilarating feel to it. Richie Faulkner has really come into his own as a member of Judas Priest. Since he joined the band in 2011 following original lead guitar player K. K. Downing's retirement, Faulkner has given Priest a big shot in the arm and has provided tons of energy along with tremendous musical talent that is not only on display within the bands newest studio album Firepower, but he can also perform extraordinarily well live on stage. Richie is, without doubt, the total package as far as guitar players go. Andy Sneap was on point as the co-lead guitar player alongside Richie Faulkner. Having co-produced Firepower with longtime Priest record producer Tom Allom, he was able to take what is already great about a band like Judas Priest and add a few of his own touches to what would become a great record in Firepower. Let us not forget that Sneap also deserves huge credit for covering co-original lead guitar player Glenn Tipton's live stage guitar parts following Tipton's retirement from active touring due to his ongoing battle with Parkinson's disease. It is certainly not easy to replicate Glenn's parts since he is an extraordinary guitar player, but Andy is doing a hell of a job flying the Priest flag in Tipton's absence. Ian Hill was great on bass for this show. Having played with Judas Priest since the release of their debut studio album Rocka Rolla back in 1974, Hill still has the same fiery feel to playing the big bad bass now, just as he did then. I loved hearing him cut through the twin guitars of Richie Faulkner and Andy Sneap with that bold rich and super heavy bass tone while headbanging his way through every song with a big smile on his face. Rob Halford also known as "The Metal God" displayed pure power from a vocal standpoint during this show. Whether he is singing in the high, middle or low range, Halford has such a great understanding of how to get the very best out of his voice without overdoing it. This is not easy for any rock or heavy metal singer, but Rob Halford is one of the best in the music business and he can prove it night after night with ease. It is not a complete Priest show without "The Metal God" looking his best in true heavy metal fashion. The crowd went wild when he came out on stage wearing an awesome leather jacket sitting atop an excellent fire painted Harley-Davidson motorcycle. Seeing and hearing that engine rev right before the band ripped into "Hell Bent for Leather" gave me goosebumps. It was a moment of pure rock and roll euphoria. Scott Travis who celebrated his birthday that night was on fire for this gig. At 57 years old the veteran drummer showed no signs of slowing down. Travis is the band's longest active-serving drummer since 1989. It is clear how much he loves to play drums, loves Priest and loves the band's fans greatly. I was very happy to see and hear him pound away on that great looking DW drum kit with such power, passion, and joy. He performed flawlessly on all the classic songs and his explosive drum intro on "Painkiller" was most excellent. Priest's setlist was a nice mix of killer tracks from Firepower, fan favorites like "Delivering the Goods", "Hell Bent for Leather" and "Turbo Lover", along with a couple hidden gems such as "Sinner" and "Desert Plains." I feel that Priest put out a great record in Firepower. They are more than able to deliver killer shows nightly and all the band members are at the top of their game musically speaking. It is perfectly clear that the metal gods still love to bring the rock and roll to the fans and have an absolute blast doing it.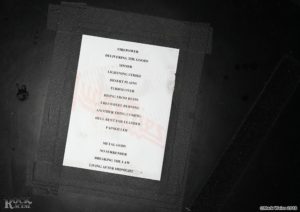 Set list from PNC Art Center in Holmdel New Jersey on September 26.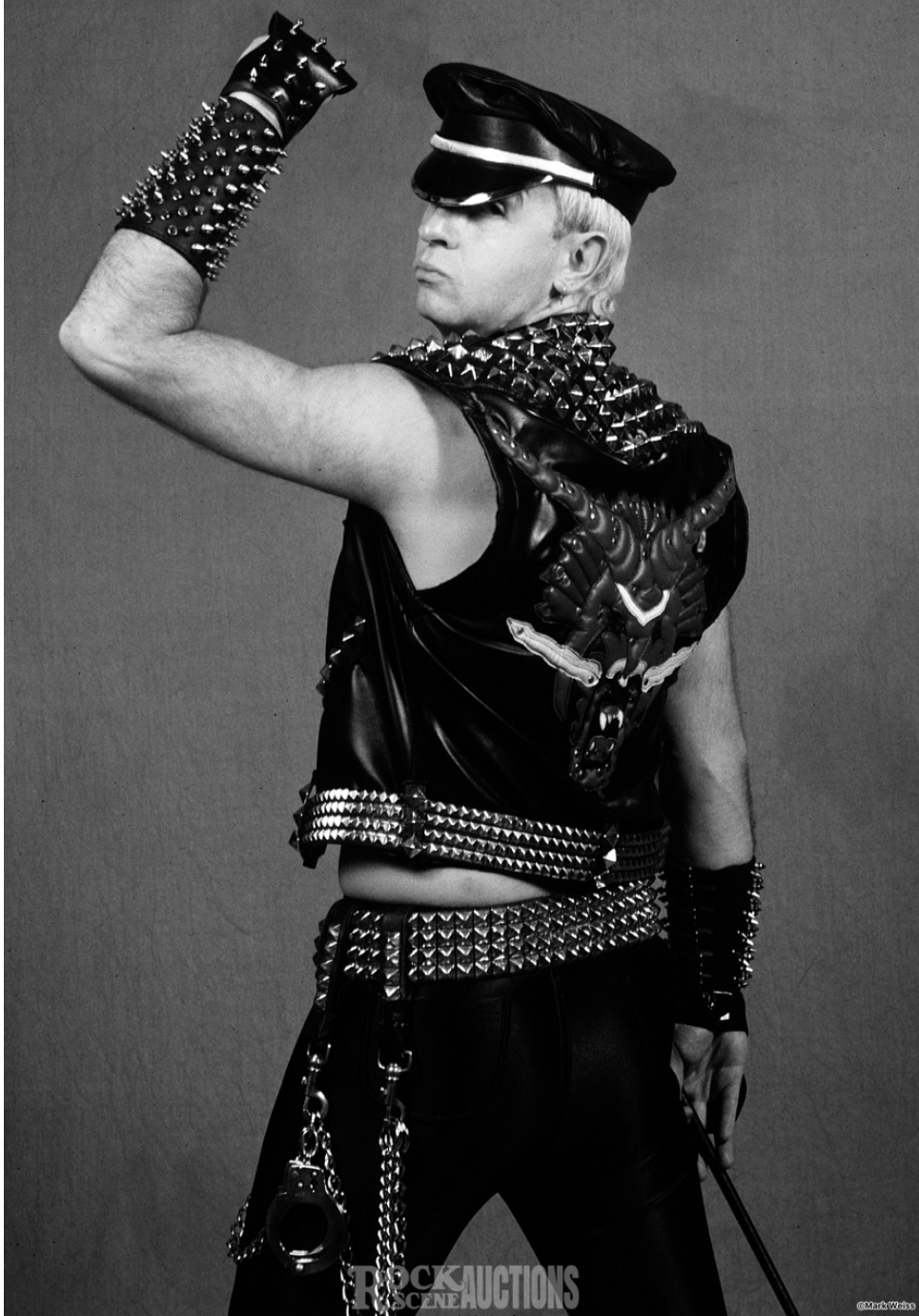 Go to ROCK SCENE AUCTIONS and sign up for a chance to win this photo signed by photographer Mark Weiss. (value $1,200)
Richie Faulkner talks about his Rock Scene
Richie Faulkner got his first guitar when he was around 8 years old. His father played guitar and was into bands like Black Sabbath, Deep Purple & Jimi Hendrix. When Richie was about thirteen years old, he connected with the owner of a local music shop who played in a cover band, covering material from Iron Maiden to Thin Lizzy to UFO. He asked Richie to play a couple songs with him at some gigs, and that was his introduction to the world of gigging. His first signed band was a band called Dirty Deeds, and they recorded an album that was produced by Steve Harris from Iron Maiden. In 2011 he got the call from Judas Priest's management to arrange a meeting with the band after guitarist K.K. Downing left the group. Richie met with Rob Halford and Glenn Tipton. "We discussed what they wanted, what they didn't want, and they also discussed what I wanted and didn't want" he says. "They wanted someone in the band, they didn't want a hired gun. They wanted someone who'd give a thousand percent to the band and they'd give a thousand percent back."
Glenn Tipton talks about his Rock Scene