The Rolling Stones – NO FILTER TOUR – July 23, 2019
It's A Jersey Thing! A funny thing happened on the way to MetLife Stadium!
Mick shouts out to the crowd…."So we went to the Tick Tock Diner, we had Taylor ham, egg and cheese! With disco fries and sloppy Joe to go!"
Watch Mick as he talks about the "TIC TOC Diner (9:45) to the sold out crowd at MetLife Stadium in East Rutherford, New Jersey on August 1, 2019
The Rolling Stones at The Lincoln Financial Field, Philadelphia, PA on July 23, 2019

TIME IS ON THEIR SIDE AS THE STONES ROLL INTO PHILADELPHIA
Mick Jagger was born on July 26, 1943, in Dartford, England. His Zodiac sign is Leo and it's his birthday today! On July 23, Mick and the Rolling Stones gave us an early birthday present at the Lincoln Financial Field in Philadelphia, Pennsylvania. People, places, and styles of music change, but the Rolling Stones are here to carry on without missing a beat. Keith Richards and Charlie Watts set the tone and speed of the songs throughout the night. Ronnie Wood and Richards play off each other, showing their love of music and of course, the love of their fans. Mick blasted onto the stage with his red leather jacket for the opening song "Street Fighting Man". Mick Jagger showed no signs of his health scare of a few months back. It was business as usual for this iconic band, the rain could not stop them, and the fans loved them for it. It was a night of appreciation, reflection, and admiration from the group who first played Philly on May 2, 1965, at Convention Hall. Mick Jagger, the showman, is always trying to connect with the audience. After singing "Honky Tonk Woman", he references Nick Foles, Wawa, and Sheetz. "We just came from the Jaguar stadium in Jacksonville. That's where we were last. That's our last gig, And Nick Foles sends his best wishes. But, really we are having a great time in Philadelphia. I was on my way to Wawa to get my hoagie, but then I hit a pothole. Charlie was okay because he gets his hoagies from Sheetz." The request song chosen by fans was "Bitch" from the Sticky Fingers album.  Another treat was a two-song acoustic set with the band delivering  an awesome performance of "Angie" and "Dead Flowers".  The night ended with "Satisfaction" as the crowd finally received their fill of musical delights for the evening.  My wish for all of us is that we are doing what we love at a ripe old age. The Rolling Stones showed us once again that the show must go on!—-by Paul Fessock
PHOTOGRAPHY BY MARK "WEISSGUY" WEISS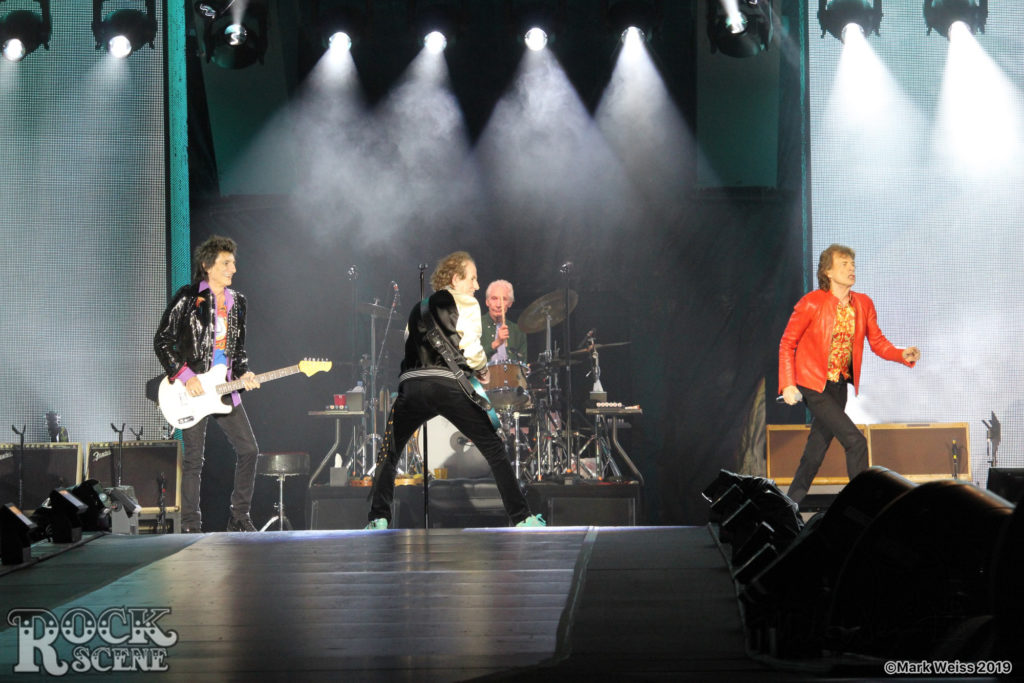 June 17th, 1978 -The ROLLING STONES JFK SHOW ENDS WITH DESTRUCTION!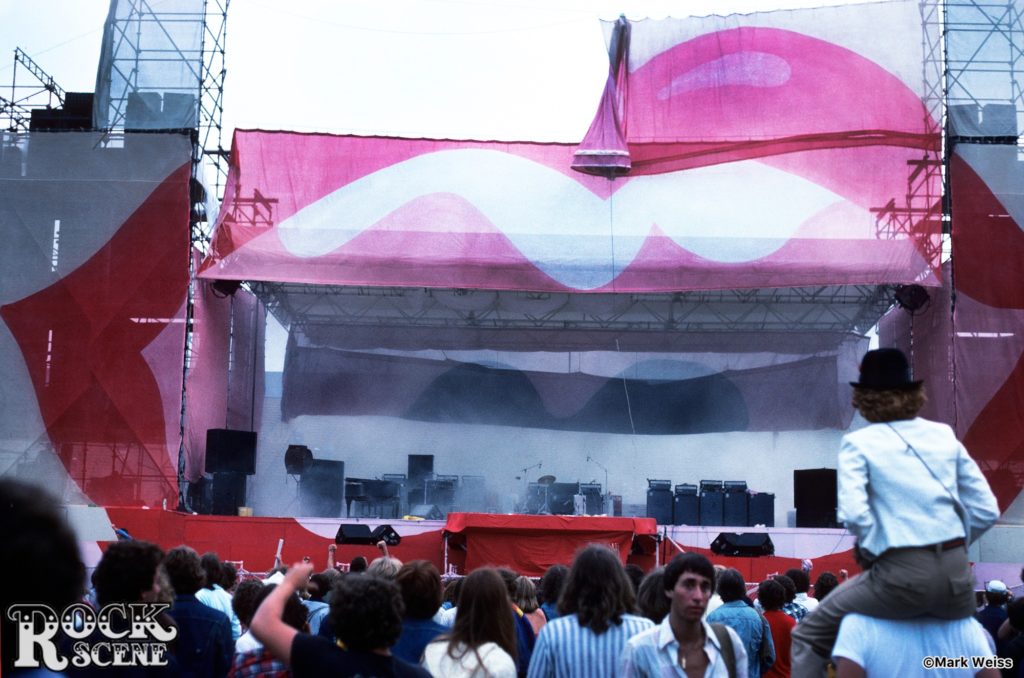 After the 100,000 capacity crowd at JFK Stadium saw the helicopter leave after  finishing their short 45 minute-set fans began throwing anything they could find destroying the tongue shaped stage.
This was a very hot and muggy summer day in Philadelphia, and tensions were running high in the stadium.  An attendee to the show remembers: "We got in line early to try and get as close to the stage as we could. We were on the east side of JFK with about 10,000 other people wanting to be in the front row. People were upset that it was taking so long to open the doors. There was a garbage truck stuck in the middle of the crowd just trying to get out.  People were throwing stuff at him. Many the back of the truck, smashing bottles of the side. "Then some dude got on top of the back and started dancing. At first people cheered then it became target practice. Somebody nailed  him right in the forehead sending him off the truck. He fell off the opposite side so we have no idea how bad he was hurt. We did see first aid work their way through the crowd. It had rained before the Stones played and I remember Mick Jagger running out on stage, slipping and falling down. He had a fever and they played a short set. As we were running for the car I remember people being pissed about the length of the show. After the show fans trashed the stage because they were pissed off." It takes a while for them to warm up and the opening numbers are delivered at a brisk pace, but the band delivers an effective show.  They play all but three songs, "Some Girls," "Lies," and "Before They Make Me Run" from the new album, something they didn't do before nor since.  Even more interesting is how, after four older songs, they are all bunched together in the middle of the set.  Jagger teaches the audience to sing the chorus before "Miss You." Afterwards he says, "We're gonna do more songs from Some Girls.  This is called 'Respectable.'"  It is a fun track and the audience get into it, and afterwards he says, "Are you respectable?  No you don't look it.  A disrespecting bunch.  We're gonna do one called 'Beast Of Burden.'"  "Far Away Eyes" is another fun number, and is followed by a great version of "Love In Vain."  Wood plays the slide solo and people by the recorder sing along.  About half way through a jet plane is audible flying over the stadium.  Mick introduces the final new song of the set by saying, "Shattered, splattered, shit on."  There is a short delay in getting the equipment ready so Jagger sings the chorus in monotone, "shidoobee, shidoobee, shattered shattered" while waiting.  Immediately Richards leads the band into "Satisfaction," which is played for the first time on the tour. "Are there any sixteen year old girls.  You have any sixteen year old girls?  This one's for you."  They play Chuck Berry's "Sweet Little Sixteen" which the Stones played live for the first time two days before in Passaic, New Jersey.  Mick changes "Pittsburgh, PA" in the lyrics to "Philadelphia, PA" to the audience's approval.  The next three songs, "Happy," "Brown Sugar" and "Jumping Jack Flash" finish up the show and the band quickly leave the stage.  "Good night, good bye, and we'll see you next year" is Jagger's parting words.  (Story by: Music Collectors Music Review)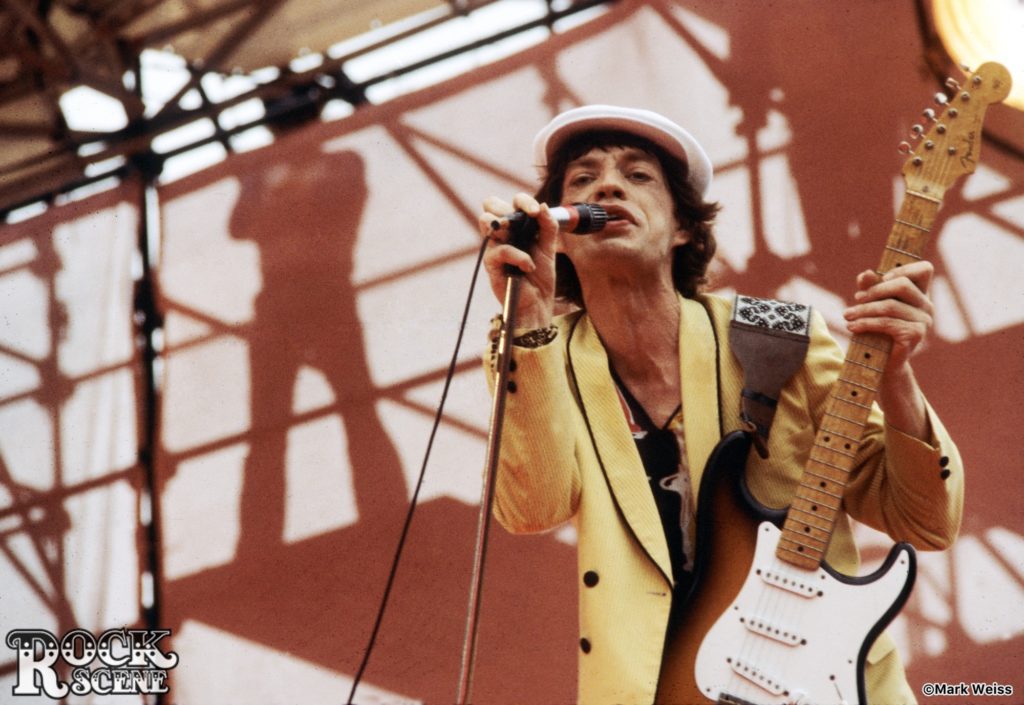 Mick Jagger performs at JFK Stadium in Philadelphia on June 17, 1978 on the Some Girls tour.
Buy a Piece of Rock & Roll History! Get 50% off all Mark Weiss BUY NOW photographs. Use coupon code: RSMFLASHBACK50 at checkout (Two per customer, excludes auction listings)
September 25 & 26, 1981 – Rolling Stones Comeback to Philly to Reclaim Their Throne!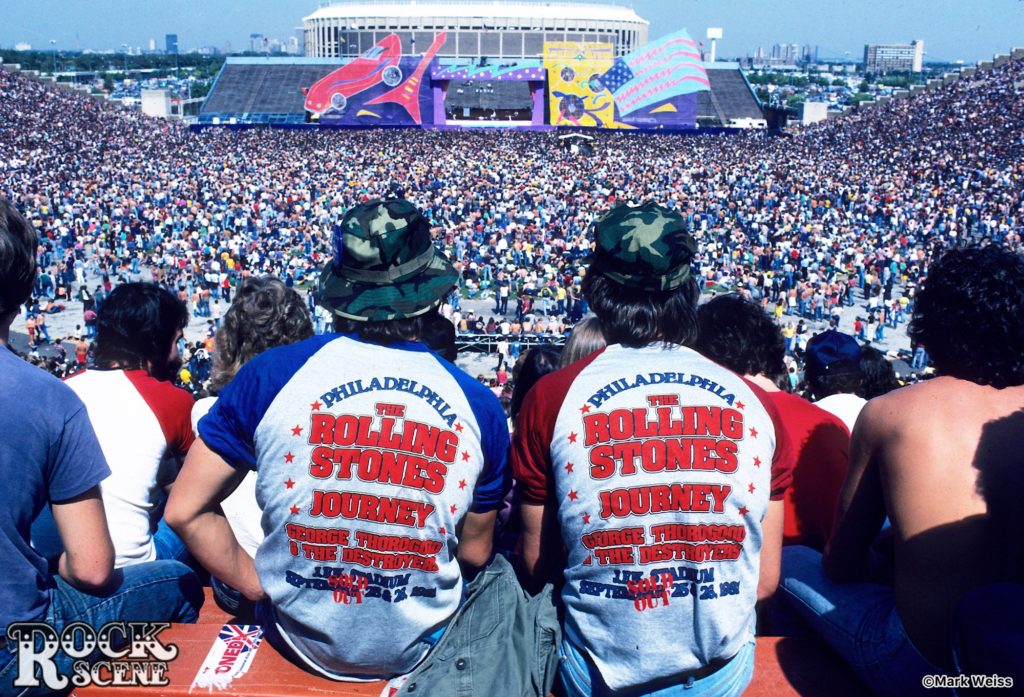 180,000 fans rocking out to The Rolling Stones on September 25 and 26th, 1981 as they started the Tattoo You  tour in  Philadelphia's JFK Stadium.  
For the first time in three years, the Stones were back, and they proved why they are still on top. The stage was designed by Japanese artist Kazuhide Yamazaki,  at the time it was the largest moving concert set ever built! It was 64 feet wide, with 80 foot ramps stretching out from the right and left sides, and 150 feet of silk strips flowing into the bleachers. The scrims all around the stage were paintings of cars, guitars and giant records.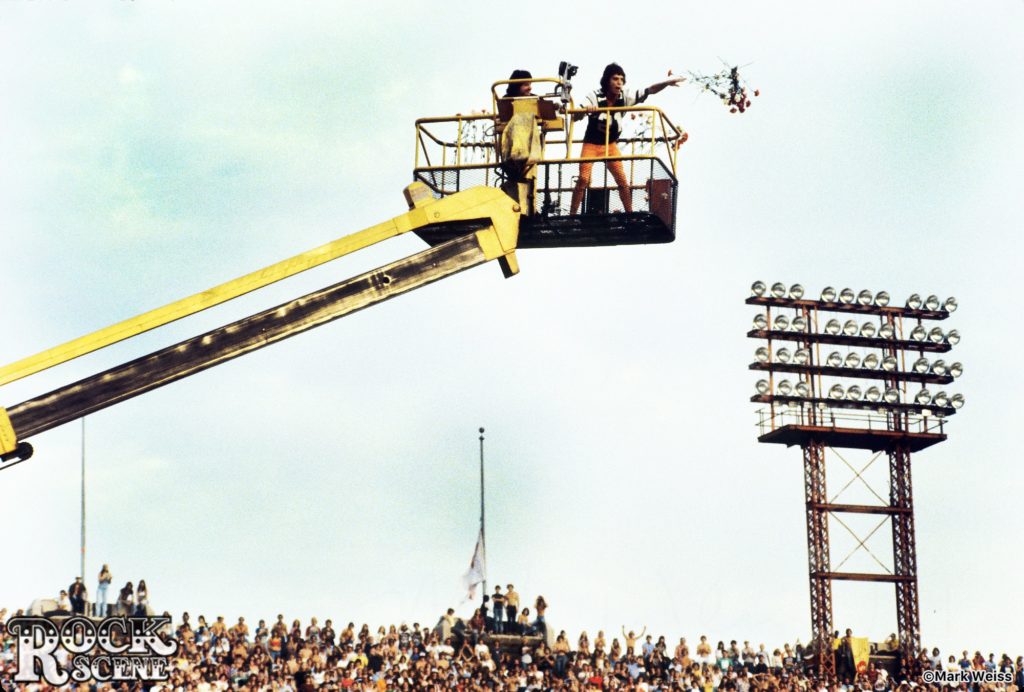 Buy a Piece of Rock & Roll History! Get 50% off all Mark Weiss BUY NOW photographs. Use coupon code: RSMFLASHBACK50 at checkout (Two per customer, excludes auction listings)
Mick and Tina "get what they want" at Live Aid at JFK Stadium on July 17, 1985
Mick Jagger performed a duet with his longtime friend Tina Turner to "State of Shock" and "It's Only Rock 'n Roll (But I Like It)."
Live Aid was held July 13, 1985, sat JFK Stadium in Philadelphia and at Wembley Stadium in London at the same time. Bob Geldof and Midge Ure organized the concert to raise money to battle the Ethiopian famine in Africa. It was aired on television and seen by an estimated 1.9 billion people. Also 175 thousand people attended both events.  Live Aid raised more than $125 million. Tina Turner, Mick Jagger, Eric Clapton, Crosby, Stills, Nash and Young, The Beach Boys, Hall and Oates, Bob Dylan and Phil Collins appeared in Philadelphia.Phil Collins flew by Concorde from London to Philadelphia, and performed at both events. The 16 hour concert was globally linked by satellite. Prince Charles and the late Princess Diana officially opened Live Aid in London. One of the many highlights in rock n roll history happened at Live Aid in 1985.  Mick Jagger performed a duet with his longtime friend Tina Turner to "State of Shock" and "It's Only Rock 'n Roll (But I Like It)." Jagger started the song in a T-shirt and baggy pants, and slowly throughout the song stripped down to a neon jacket.  Tina Turner, looking hot as usual kept up with Jagger, and stripped down from her leather dress into a leotard. written by Paul Fessock
ROCK SCENE MAGAZINE REFLECTS
Here are the ROCK SCENE Magazine covers that was published in the 70's. The Rolling Stones allowed ROCK SCENE writers and photographers in to capture some of the memorable moments during the early days of the band.